It seems like some people are having troubles making accounts for nicovideo, so heres a quick tutorial on how to make one. I'll try to make it as simple as possible. (Also sorry if this is the wrong place to put this. I figured since this tutorial is only for this topic, it might as well go in here.)
Step one:
Open up a web browser (Explorer, firefox, etc.) and type in the URL "
http://nicovideo.jp
" this will take you to the site you need. =p (Duh, if you can't get past this step....I'm afraid there is no hope for you. Also how did you get to this site in the first place?)
Step two:
After getting to the main screen you must click upon the red button to the left of the login
Step three: After completing step two you should be in "secured" part of the site that says "
https://secure.nicovideo.jp/secure/register
" it should have a layout that looks like paper work. (It will look pretty obvious it might remind you of what signing up for this forum looked like.) This is where most people would have troubles if they don't know how to translate Japanese, or they don't know how to use a online translator tool .
This is where the real step begins! First you must fill out all the forms!
For the sake of everyone here, I took the liberty of making a translated screen shot.
This is the what the original Japanese website looks like:
This is my translation (Very rough translation by the way, most of it I reworded to make it easier to understand.):
Use these to help you fill in the form! However! Make sure you to use a REAL e-mail you will need to login into it later to validate your account!.
Also like it says in the picture, the area you live in doesn't matter really. I really doubt you'll even be commenting with your account!
Step four:
After filling in the above form, you will scroll down to something that looks like this.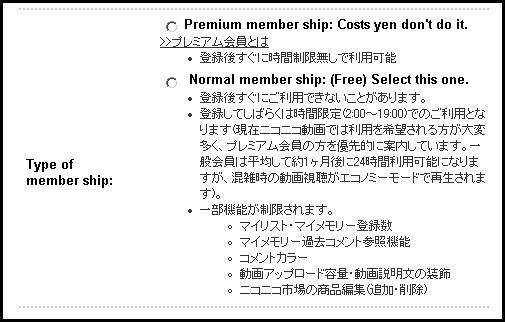 I translated the important parts. Make sure to select the lower one! This is the free one that does NOT cost money. The top is a "premium" account, which costs 525 yen a month! I'm sure you don't have any yen in the first place though.
Step five:
After selecting the "Normal" member ship circle, you will want to scroll down until you see a black button with some Japanese above and below it, this is what it translates into.

After checking that all your information is correct click that black button to move on to the next page.
Step six:
Whew, this is longer then I thought...but good news! Your almost done!
After the next page loads, the very first thing you should see is something that looks like this.
Of course with out the black lines hiding personal information of course.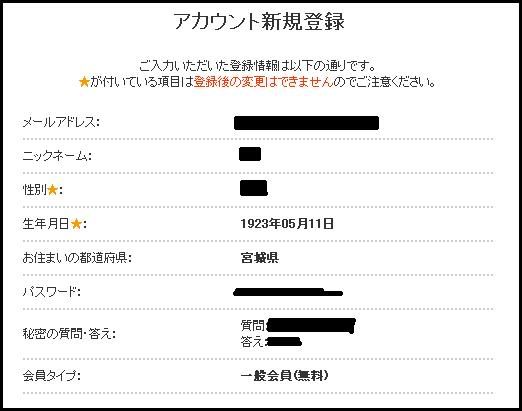 This is just showing you all the info you put down and is just another "Are you sure you put down all the right information?" section. If your REALLY that worried that you miss typed something this is the spot to check, but remember that half the info will be in Japanese. Anyways after that you scroll down yet some more until you run into this huge hunk of letters.
The above image says everything you need to know. Click that button to move on to the last couple of steps! (Yay! hooray! Your really, really, close to having your very own account!)
Step seven:
After loading the page you will run into this right here.
This in the most part says your account won't be activated until you go activate your account! (This is where the valid e-mail comes into play!)
Step Eight:
(So bloody close, yet seemingly so far away!)
O.k. this is the grand finale! Log into your e-mail. If its Yahoo your most likely going to have random letters, I don't think yahoo supports Japanese characters. Anyways, after logging into your e-mail look for the one from
info@nicovideo.jp
! Then go to the link they give you at the bottom of the e-mail. It will send you to a screen that says your account name and ID number. (Sorry I ran out of screen shots, also I think the mods will already hound me for using so many.) but this screen is good, because your very own account is made! (Almost)
Tomare!(Stop!) Make sure to click the underlined words to the right not the left. The left is asking about premium accounts. The right takes you to the main site!
Step nine:
Celebrate! Throw yourself a party! Be happy! Dance for life, cause' my friend you are now signed onto your VERY
OWN
Nicovideo account!.
To bad your going to have one heck of a time finding your way around the site!
Happy watching!
(To the mods, I'm sorry this was a lot longer then I thought it would be! Also a lot more screen shots! Heheh ^^;;. Sorry bout' that! -bow-)