mrgameandpie wrote:
If you have a face, dust and dirt might get in your eyes or nose or mouth, causing agitation and allergies. Thus, a creature whose sole purpose is to agitate the dust of the world to move it elsewhere would be best without those features.
This is genius.
But yes, Broom Hatter looks extremely weird with Kirby's Cleaning cap. But at the same time, in an odd way, it suits...
her,
apparently.
_________________
——————
——————
..

*

.:*
.☆
★
*..•.
Just your friendly neighborhood jester grape~
.•..*
★
☆.
*:.

*

..
x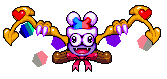 x