NOW AGGRON MAY NOT LOOK IT BUT HE IS QUITE THE ADVENTURER TODAY I AM GOING TO PLAY
ADVENTURE GAME
THIS IS MY FIRST LETS PLAY I HOPE YOU LIKE IT
HORAY? THIS BLUE ANIME KID IS THE HERO I GUESS
WELL AT LEAST I GET TO START WITH 2 PEOPLE
WHILE ADVENTURING AGGRON FOUND SOMETHING THAT LOOKS IMPORTANT. MAYBE ITS A SECRET ITEM?
GOD WELL AT LEAST I GOT TO EXPLORE AND EXPERIENCE THE ADVENTURE
AGGRON LOOK AROUND IN THE WOODS SOME MORE FOR NOW
FFFFFFFFFFFFFFFFFFFFFFF GOD WHOEVER DESIGNED THIS GAME FORGOT TO PUT ACTUALLY GOOD STUFF IN THE SECRET AREAS
I SWEAR YOUD HAVE TO HAVE A CROISSANT STAPLED TO YOUR FOREHEAD 24/7 TO DESIGN A GAME THIS BAD
NO JOKE
ANYWAYS I WILL TRY TO FINISH THIS STUPID GAME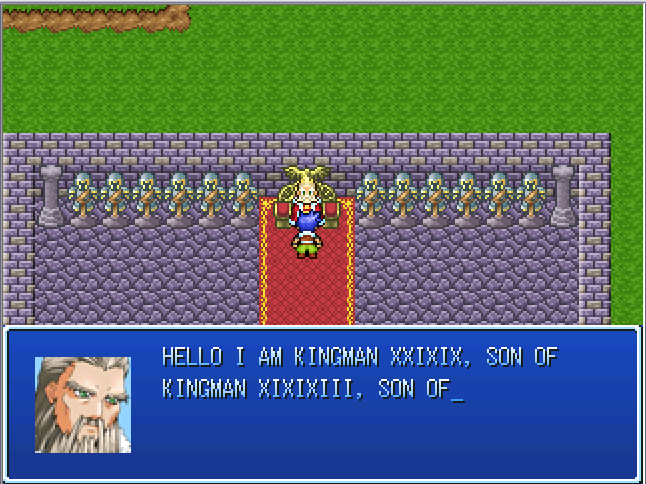 AAAARG SHUT UP OLD MAN
I GUESS HE WANTS US TO GO KILL A SKELETON BOSS SOMEWHERE
DID I MENTION IM STILL LEVEL 1 AND HAVENT FOUGHT ANYTHING YET? THIS FAR INTO THE GAME AND NO FIGHTS YET
ARGH IM GOING TO HEAD SMASH YOU
LIKE 5 STEPS INTO THE CAVE I FIND THE SKELETON
BUT ITS NOT THE REAL ONE UGH
LUCKILY THERES A MINE CART SO I DONT HAVE TO RUN THROUGH THIS ENTIRE PLACE
BUT IT DOESNT WORK
FINALLY SOMETHING I CAN AGREE WITH
THIS GUY SAYS THINGS I DONT UNDERSTAND
WHAT IS HE EATING THE STATUE OR SOMETHING? I DONT GET IT. IM AGGRON AND I DONT EVEN EAT ROCKS
FINALLY I HAVE FOUND THE SKELETON AND WE THROW WORDS AT EACH OTHER.
AGGRON NOT SO GOOD AT TALKING
TIME TO GO BACK TO THE OLD GUY. BUT WHATS THIS???
NOW I HAVE A FULL PARTY I GUESS
THIS ONE LOOKS SQUISHY THOUGH
YAAAY THIS TERRIBLE GAME IS FINALLY OVE
AAAARGH
KINGMAN WANTS ME TO FIND A BAD GUY AND STOP HIM FROM BEING BAD
I STOP IN THE TOWN TO ASK AROUND FOR INFORMATION
THIS CHICKEN CONFUSE AGGRON. AGGRON HURT HIMSELF IN HIS CONFUSION.
HEY LOOK I FOUND BAD GUY
FINALLY ITS TIME FOR THE FINAL BOSS. LETS DO THIS FAST GUYS
AFTER WINNING AGGRON TALK TO ALL THE HAPPY TOWNSPEOPLE. MAYOR ASK FOR HEROS NAME.
WHY THIS HAPPENS AT THE END OF THE GAME AND NOT AT THE BEGINNING I DONT KNOW
WHATS MY REWARD KINGY
I HATE THIS GAME