The KDL3 exclusive Animal Friends. Not Rick, Kine and Coo, I wanna see ChuChu, Nago and Pitch.
At least Gooey was added to KSA.
It's never gonna happen since... y'know... she's dead. But I wish Sectonia could come back, I really liked her.
More of Galacta Knight would also be nice, especially after Morpho essentially replaced him.
And Sword? Where the HECK did Sword go?! Blade has had an almost perfect attendance streak since KRtDL, but Sword is just gone. Pretty sure he hasn't been around since Ultra.
I'd also like Prince Fluff to come back. And has Shadow Dedede been anywhere since KTDX? (Not counting D-Mind from Team Kirby Clash Deluxe, that is.)
We also need way more Taranza.
Oh, and am I the only one who thinks a return of some of the Souls would be cool? I mostly have Marx Soul, Magolor Soul and Soul of Sectonia in mind, but they're my favorite Souls.
I would also like it if Drawcia reappeared somewhere along the line. Dynablade as well. Aaaaand that's all I can think of for right now.
And boy would a return of the Robobot Armor, Hypernova and Super Ablities in the same place be epic.
_________________
——————
——————
..

*

.:*
.☆
★
*..•.
Just your friendly neighborhood jester grape~
.•..*
★
☆.
*:.

*

..
x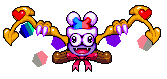 x